If you're serious about becoming a great songwriter, you've come to 
the right place. Let renowned songwriter and songwriting coach Jai 
Josefs help you take your songwriting to new levels.
Jai has helped thousands of songwriters improve their songwriting skills – melody, lyrics, hooks, groove, chord progressions, structure and more.
Many of his students and clients have become successful songwriters with songs on the Billboard charts, placements in movies, commercials, television and video games as well as securing publishing and major label recording deals.
Watch this brief testimonial from Jason Brawner, songwriter/producer whose credits include Carrie Underwood, Hilary Duff and American Idol


Songwriting is an art – but its also a craft. As songwriters we all have internal muses that inspire us with melodies and lyrics that convey feelings and stories. But professional songwriters know that inspiration is only the first step, and it takes a thorough knowledge of the craft to edit what our muses give us into a finished product that can successfully impact thousands or even millions of people.
Jai has been successfully coaching songwriters take their writing to a new level for over three decades through his nationally renowned SongShop as well as his private songwriting coach programs and educational CD's. Come look inside and see how Jai can help you realize your full potential as a songwriter. To contact Jai directly about working with him, email jai@jaijomusic.com
FALL/WINTER 2020 NEWS
Jai has a powerful new workshop called Secrets of Successful Songwriting where he reveals techniques that top hit writers use to create their songs and demonstrates how to immediately begin incorporating those techniques into your own writing. He will be presenting  it as part of the amazing online Music Expo Summit on November 13 and 14 with Grammy winning speakers in production, engineering, promotion, and of course songwriting. You can find out more about it here: https://www.musicexpo.co/summit
.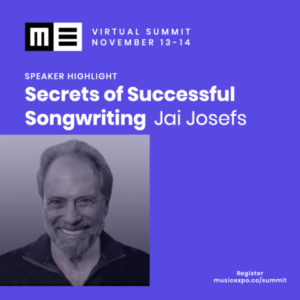 He will also be presenting a free short introductory online version of it for Bananas at Large, Northern California's premier music stores, on Saturday December 5. For details and to register click here: https://www.bananas.com/blogs/events/free-secrets-to-songwriting-class
Coming up in the New Year – Jai will likely have an opening or two in February for new members of his renowned monthly SongShop
https://jaijomusic.com/songshop/
He is also available for introductory sessions and consultations. See here for details:
Wishing everyone a happy and successful 2021. Write on!