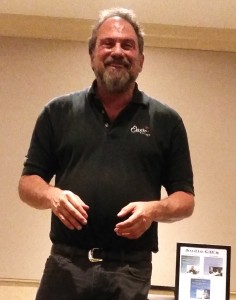 Jai Josefs welcomes you to the Jai-Jo Music web site. 
If you're serious about becoming a great songwriter, you've come to 
the right place. Let renowned songwriter and songwriting coach Jai 
Josefs help you take your songwriting to a new level.
Watch this brief testimonial from Jason Brawner, songwriter/producer whose credits include Carrie Underwood, Hilary Duff and American Idol

Songwriting is an art – but its also a craft. As songwriters we all have internal muses that inspire us with melodies and lyrics that convey feelings and stories. But professional songwriters know that inspiration is only the first step, and it takes a thorough knowledge of the craft to edit what our muses give us into a finished product that can successfully impact thousands or even millions of people.
Jai has been successfully helping songwriters take their writing to a new level for over three decades through his nationally renowned SongShop as well as his private coaching and educational CD's. Come look inside and see how Jai can help you realize your full potential as a songwriter. To contact Jai directly about working with him, email jai@jaijomusic.com
Latest News – 2018
• Jai will be presenting Part II of his "Secrets to Successful Songwriting" workshop series at Bananas at Large – Marin county's premier music store – on Saturday May 12. This part focuses on how hit writers make sure their personal lyrics speak to a broad range of listeners in an engaging and meaningful way and the specific steps you can take in your own writing to do the same. For more details and to register go to https://www.bananas.com/blogs/news/songwriting-workshop-with-jai-josefs
• Jai will be the judge at the Berkeley WCS songwriting contest on Monday evening May 21 at the Freight and Salvage 2020 Addison Street in Berkeley. Come hear some great local songwriters – festivities start at 7:00 PM.
• Finally, the next cycle of Jai's renowned Saturday SongShop begins in the Bay Area on Saturday June 16th and there may be a couple of spaces available. Visit the SongShop page on this site: http://jaijomusic.com/songshop/ to see what we do and what a difference it has made in helping songwriters take their writing to the next level. Registration opens on May 19.
ALSO NEW – A brand new educational video called "How to Write Melodies Like the Pros" available on this website here: http://jaijomusic.com/audio-video-programs/