The Songwriter's Blueprint: Turning a Great Idea into a Successful Song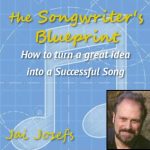 Songwriters tend to write from the heart with emotion – as they should. But is what you write successfully conveying that emotion to the listener?
In this audio program Jai shows you how the Songwriters Blueprint can help you turn your personal lyrics into the kind of compelling well crafted professional songs that will carry your message to a wider audience and generate industry attention – all while maintaining the integrity of your original inspiration. Using examples from successful writers in the pop, indie, singer/songwriter, and country idioms whose work has touched millions, he analyzes the process they use to make sure their lyrics connect with all listeners in a meaningful way. And he shows you a step by step method you can use to immediately begin applying that process to your own writing.
Note: This program is a download so there is no shipping charge.
$19.95 Add to cart
Transforming the Tune – Secrets of Musical Rewriting  –  Two-CD set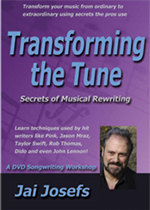 Most songwriters know the importance of rewriting lyrics till they're in the best possible shape, but far fewer are aware of the wide range of possibilities for rewriting the music of a song it becomes both more compelling to the listener and more marketable.. In this two CD set. Jai breaks down the four key musical elements of a song – melody, structure, chord progression, and groove – and shows specifically how making changes in each of them can transform a song from ordinary to extraordinary. Using before and after examples from real life successes, he then shows you how you can begin applying these breakthrough techniques to rewriting your own songs now!
$24.95 Add to cart
Melody Magic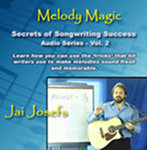 There are some melodies that have an almost "magical" quality to them. They're fresh, 
interesting and most importantly, you immediately like and remember them the first 
time you hear them. On this CD, using examples from hit songs in the Pop, Rock 
and Country idioms, Jai demonstrates how you can create melodies that have this 
 effect on your listeners. You will learn the specific techniques that great writers use 
to make their melodies memorable – and how you can immediately begin applying 
these techniques to your own writing.
$19.95 Add to cart
Getting into the Groove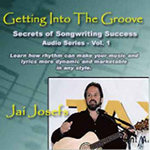 What makes a song sound "contemporary"? What makes a demo more appropriate 
for the pop, rock, or country market? On this CD, Jai shows you how 
knowledge of the underlying principles of rhythm can help make your songs both 
more dynamic and more marketable by answering these questions and more. Using 
examples from well known music in all genres, he illustrates how working with groove 
can dramatically impact both lyrics and melodies, with a special emphasis on how you 
can immediately apply what you learn to your own writing.
$19.95 Add to cart
Chord Chemistry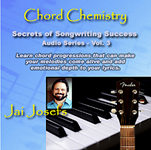 When people think about a song, the first things that usually come to mind are melody 
and lyrics. But as every professional knows, using the right potent chords in the right 
places can transform a melody and lyric into an extraordinary and remarkable song. 
On this CD Jai reveals the "secrets" hit writers use to create fresh original chord 
 progressions that add emotional depth – in a way that allows you to immediately 
incorporate the information into your own writing.
$19.95 Add to cart
$5.45 will be added to each order of between 1 and 4 CD's for shipping and handling on US orders. $14.50 will be added for shipping and handling to orders from Mexico and Canada.
No shipping charge on The Songwriters Blueprint, which is a download
FREE domestic shipping on orders of 5 or more CD's.
For orders outside North America, email info@jaijomusic.com for shipping rates.